Tea Times
Tea traditionally can be taken at different times of the day and can be formal or informal.
High Tea — High tea sounds "upper class" but in fact it was an evening meal most often enjoyed around 6 pm as laborers and miners returned home. High tea consisted of meat and potatoes as well as other foods and served with tea. It was however not exclusively just a working class meal but was adopted by all social groups. Traditionally families with servants often took high tea on Sundays in order to allow help time to go to church and not have to cook and serve an evening meal to the family.
Royal Tea — This was a social tea served with champagne at the beginning or sherry at the end of the tea.
Low Tea or Afternoon Tea — This is an afternoon meal including sandwiches, scones, clotted cream, jam, 2-3 mini desserts and tea. Known as "low tea" because guests were seated in low armchairs with low side-tables on which to place their cups and saucers.
Cream Tea — A simple tea consisting of scones, clotted cream, jam and tea. Can be taken morning or afternoon.
Elevenses — A short break taken around 11am in England where tea or coffee is taken often along with a small snack.
The history of afternoon tea.
History states that the afternoon tea tradition was started by Anne, Duchess of Bedford, a lifelong friend of Queen Victoria. She requested that some light sandwiches be brought to her in the late afternoon because she had a "sinking feeling" during that time because of the long gap between meals.
She soon began to invite others to join her and started something that was to become a British tradition. The light sandwiches served with afternoon tea have gradually evolved to include more elaborate food such as crustless finger sandwiches, scones with clotted cream and jam, and a final course of sweets and pastries. The idea was to provide small portions which were dainty and capable of being eaten in a few mouthfuls with the fingers or with a small fork and could be served comfortably in a sitting room environment among  friends. This tradition has continued over the years and although is now less formal it can be found taking place throughout Britain today.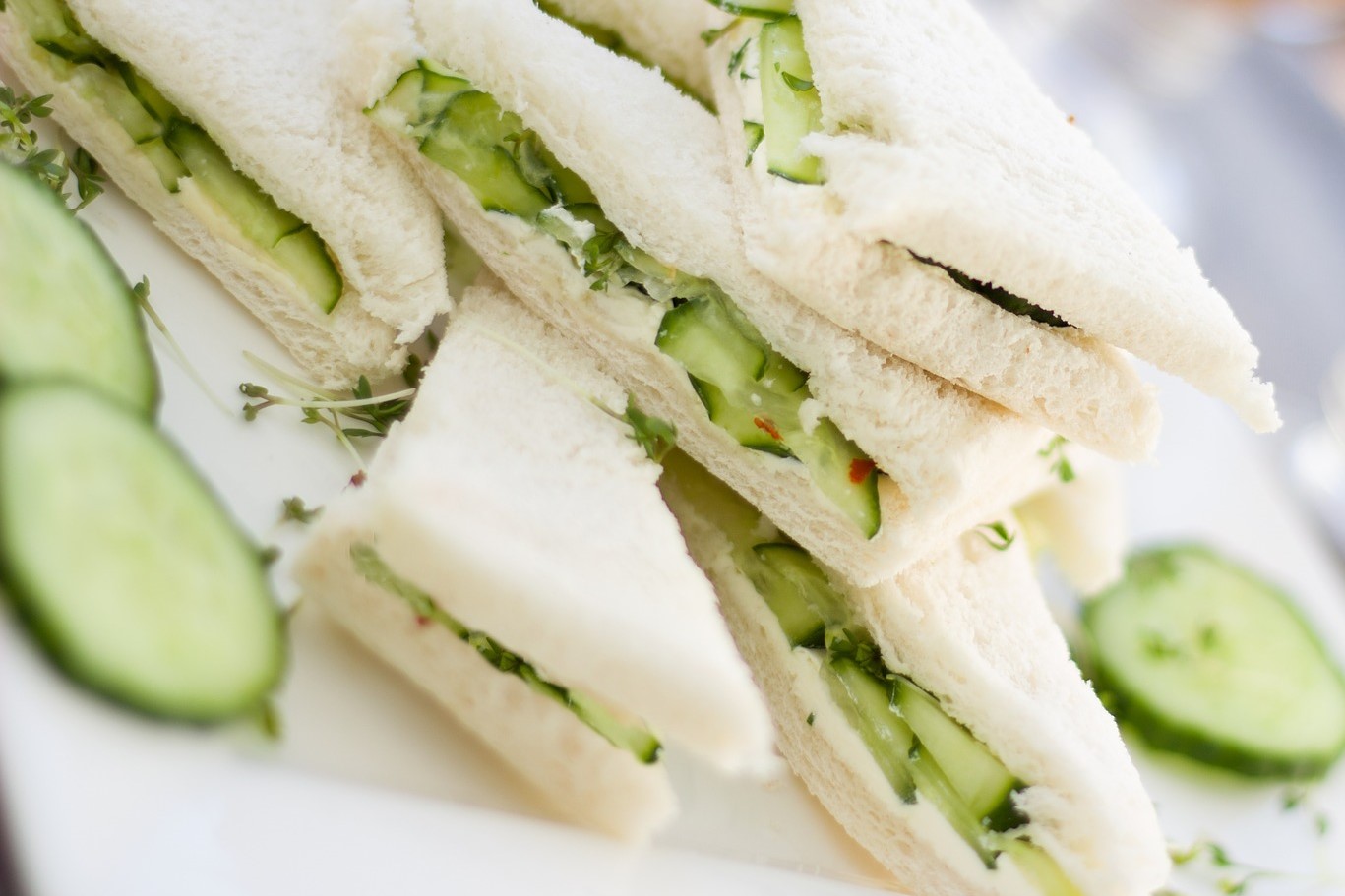 The etiquette of afternoon tea
Traditionally the sandwiches are eaten first, and this is with fingers not cutlery. Then the scones which should still be warm then followed by any other sweet treat offered.
Tea sandwiches must have their crusts cut off, and presented either in the shape of triangles, rectangles or as the royal household prefers in small squares. Usually made with thinly sliced bread and butter and often both white and brown bread will be used. They are finger sandwiches and are eaten with the hands, not cutlery.
Any number of traditional fillings for afternoon tea sandwiches may include:
Tuna
Cheese and Pickle
Roast beef.
Egg Mayonnaise.
Thin slices of cooked ham and a little English mustard.
Buttered bread with thinly sliced, cucumber.
The scones should be broken in 2 by hand, not with a knife, and each half eaten separately. They should never be sandwiched back together. There are two ways to spread the cream and jam on the scones; the Devon way is cream first, jam on top. The Cornwall way is jam first, then the cream. There is no right or wrong way it is purely preference (see Cream tea, the Devon or Cornish way ?)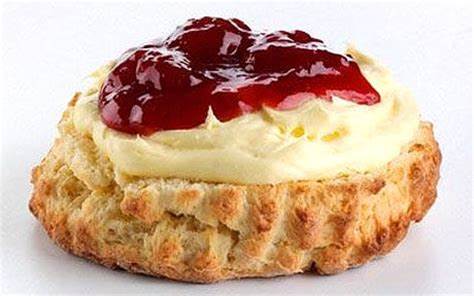 Lastly any other sweet treats are eaten, these may include slices of a large cake, delicate individual cakes or mini tarts such as the following;
French fancies.
Lemon Tart
Egg Custard Tart
Bakewell Tart
Battenberg Cake
Rich Fruit Cake
Afternoon tea is always served with traditional black tea with milk. One person will become 'mother' they will  pour the tea out of a teapot into china cups placed on saucers for everyone at the table. Milk is always poured into the cup first followed by the tea. If sugar is required it should be spooned in at this point or a sugar cube carefully dropped in. The tea should be stirred back and forth (never in a circular motion). Clanging the sides of the teacup with the spoon is considered bad manners so control should be exercised . The teacup should be held with one's thumb and index finger, fingers should not be hooked through the handle.  The saucer should remain on the table and not lifted up with the teacup.